Obituary for Gerald "Jerry" Schneider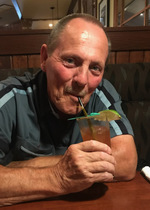 August 24, 1953 – September 7, 2022

It is with great sadness that we announce the passing of Jerry Schneider on September 7, 2022, after a brief battle with cancer.

He will be dearly missed by his wife, Lydia; children, Corey (Amanda) and Tami; siblings, Ken (Sheryl), Marlene and Donna; sister-in-law, Bernice; as well as numerous extended family and friends. Jerry was predeceased by his parents, Adolf and Catherine and brother, Wayne.

A gathering of friends and family will take place on Sunday, September 25, 2022, from 12 p.m. to 4 p.m. at Londonderry Hall, 14224 – 74 Street, Edmonton, AB.

He will be well remembered for his passion for hockey which clearly showed when he ran Delwood rink for eleven years. If it wasn't pristine ice he was maintaining, it was his yard and lawn. This passion carried over into his own business for many years, creating many close friendships along the way. Jerry left a lasting impression on many people and we will all be forever grateful for having had him in our lives.