Obituary for Jeremy Muskego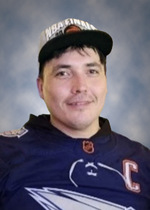 It is with deep sorrow we announce the sudden passing of Jeremy Muskego on Sunday, January 29, 2023, at the age of 35 years.

Jeremy will forever remain in the hearts of his wife, Ashley; son, Silas of Edmonton; mother, Marilyn Bruce (William) of Edmonton; siblings, Travis Hamelin of Peace River, Brian Moosewaypayo, Bruce Hamelin Jr., Cody Hamelin (Kay), Clayton (Kayla), Patricia Bruno, Dakota Pasqua and Kiera Hamein, all of Edmonton; and special niece, Daesha Moosewaypayo of Edmonton.

He was predeceased by his father, Bruce Hamelin; grandparents, Harvey and Edith Rivard, and Gloria Pasqua; special uncle, Harvey Rivard; and special cousin, Jordan Hamelin.

Jeremy will be dearly missed by his family and friends. He devoted his time to his family and his wife and son were his biggest motivators in life. He was known to never back down from a challenge and will be remembered for always standing tall during the bad days.

A wake will be held Monday, February 6, 2023, at 10 a.m. at St. Mary's Anglican Church, 11203 - 68 Street NW, Edmonton. A Funeral Service will be held Wednesday, February 8, 2023, at 10 a.m. at St. Mary's Anglican Church. The Reverend Canon Travis Enright officiating with interment in Holy Cross Cemetery.