Obituary for Patricia Ann Slobodian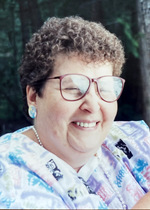 It is with deep sorrow we announce the passing of Patricia Ann Slobodian on Friday, September 16, 2022, at the age of 82 years. She passed with her daughters, Valerie and Penny and granddaughter, Channelle at her bedside. Valerie spent the last two years caring for her.

Patricia was a beloved wife, mother, sister and friend. She is survived by her children, Penny (Brian), Lois, Gene (Brenda) Todd, Valerie and Patrick; grandchildren, Jeseriah, Dustin (Jasmine), Ryan, Sadie (Jeremy), Channelle (Brandon) and Blaze; great-children, Faith, Kiera, Winter and Forest; and her brother; Donny.

Predeceased by her loving husband, Eugene; and parents, George and Mary.

Patricia was a selfless person who always put others first and had the heart of an angel. She will be deeply missed by all.

Family and friends are invited to pay their respects Tuesday, September 20, 2022, from 1 p.m. to 2 p.m. at Park Memorial, 9709 – 111 Avenue, Edmonton.

Romans - "So now there is no condemnation for those who belong to Jesus Christ." She can now rest in peace with her Heavenly Father. For the power of life – giving Spirit has freed you through Christ Jesus from the power of sin that leads to death. AMEN.